There exists a sterotype overseas, of Texans.
Texans have a reputation as among the worst of American sterotypes (the loud tourist etc...), as being arrogant, homophobic rednecks and nigger haters.
I'm from New Zealand, so I'm down with the brown yo.

And Hansel Dobbs unfortunately, reinforces this negative sterotype of a State of people who in reality, are a proud, creative, and generous bunch of down-to-earth, productive people.

I *heart* Texas, like I *heart* Walker Texas Ranger (and that's a lot).

You may recall Hansel, from this post.

There, I raged on about how furious I was at his decision to spam the comments sections of my friends with unsolicited links to a pathetic viral marketing pyramid scheme, who's only benefit to the user, is an ego-stroking increase in web traffic.

Pathetic.

The scheme (called BlogExplosion) gives uncreative and unimaginitive people the chance to get more hits and comments on their blogs, as opposed to the scant few they receive currently, having nothing fresh, creative, or new to say.

Instead of writing something people will want to read, or pouring your creative energies into making a simple blog page something bigger and more entertaining, the scheme ties you in to having to read

other

bland useless blogs, so you can all feel popular at the end of the day.

I hate popularity contests, but I hate spam more.

After commenting on Hansels comments section, I watched as not only my protest at his behaviour, but any others that were there previously, disappeared.

He maintains to this day that he doesn't spam.

But yesterday, he left me 28 comments in one post, where he not only posted at length about sexually transmitted diseases, but also about sexual positions for homosexual men, and gay and lesbian relationships.

He doesn't seem to realise yet, but he accidentally posted one of the 28 under his actual username.

If history shows us anything about Hansel, he will freak out and delete the comment when he reads this, but I have saved the web page, and will post it up here when/if he does that.

I take it from this he sees some correlation between gays and disease?
How very progressive.

At last-his true colours are revealed.

In short, instead of apologising about spamming bloggers, he decided to fix the problem by not only spamming more, but by doing it like a coward, under aliases (BungeeJuice and Justice.)

He has also started a myspace account, just so he could send me this message-


| | |
| --- | --- |
| From: | Kevin |
| Date: | Dec 21, 2004 11:07 PM |
| Subject: | Fuck you asshole |
| Body: | Your music sucks you Australians fag. |
Thing is, he's such a genius, he put his actual town in his profile, making it obvious where this vitriolic and homophobic outburst originated from.


Kevin


Male
53 years old

ROCKWALL, TEXAS
United States


Last Login: 12/21/2004
He couldn't be much less intelligent really, could he?

Well, no aliases for you Hansel.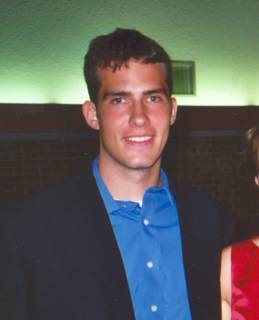 Hansel Dobbs, aka 'BungeeJuice', aka 'Justice'.



Blogger is currently looking him over for these breaches of the Terms of Service.
After yesterdays effort, I am supremely confident this redneck, gay-bashing, "entrepreneur" will be banned.

If you read this post from his blog, you will see he feels persecuted, when people don't let him have his way.


"That's right! Lobsters! If you put a bunch of lobsters in a bucket; if they just piled onto each other they could get out and when by chance one gets close another will grab him and pull him back in. This is the way people are. They are lobsters trying to keep me in the bucket when I am trying madly to get out of it because they don't want anyone around them to get out. It's easier to believe it can't be done when no one around you is doing it."

Here is his web page, this is where he works.
Here is his email, feel free to sign him up for as much spam as he can handle.


His cell number is

1-214-728-6862, call him up anytime.
His fax number-
1-214-853-4703.
And lastly, his address- North Texas Appraisal Services
2824 Misty Ridge Ln Rockwall, TX 75032-7290.

I'm not breaking any laws here, as all of this information is freely available on the internet, through his own blogger profile.

Oops!


2416 McKinley Ave
Fort Worth, TX 76106-7742
(817) 624-2912

He has disabled comments, so anyone who pops in to see his blog won't see anything negative written about him, and he spams others boards under aliases for the same reason.

For my money, he's the biggest piece of shit in the entire Dallas/Fort Worth area, and I'm very much looking forward to watching the powers that be yank his bland, uncreative excuse for a blog right off the blogosphere.

Bye bye Hansel, hope it was worth it.

This is knifey, from 'the internet'.