This one is all about one of my stranger acquaintances.
There are a few interesting facts about young Avy, that we all should know from the start.
She sings for a band in L.A. called 'Love Crash'.
She is very sensitive, and likes to think about life.
She's got le-egs...


You may have caught her work through VCA, New Sensations, Hustler, Playboy, Platinum X , Red Light, or DVSX.


Very fancy. What does it say?


Avy's not so good at English, so our conversations normally go something (exactly) like this:
Me:

"Hey Avy, what's happening?"
Avy:

"Why rock guys are so motherfuckers??? i dont have enough time to pick the pieces of my heart , to much damn ... all the time."
Me:

"I know what you mean...I think."
Avy:

"I specialize in watching porn at lunch time , so if i invite u to come over dont freak out. U will have two kinds of chicken to eat."
Me:

"That's cool, I dig chicken yo."
Avy:

"I need to fuck more rock stars. I need to fuck more young girls ...over 18 of course. I need love, love comes for those who's seeking, love hides in the nearer corner, love hides in molecular structures ..."
Me:

"Don't get me started on love. Or molecular structures either".
Avy:

"I dance naked in my room."
Me:

"Same! Especially if Daphne and Celeste are on the radio."
Avy:

"Not if yur in my pussie baby!"
Me:

"Can we eat chicken first?"
That sort of thing...
So you can imagine how hard it was to extract an intelligible recipe out of her, without having to dance naked, eat chicken, or make the hot sex.
But I did it!!!


So may I present to you, our special guest Chef du Jour...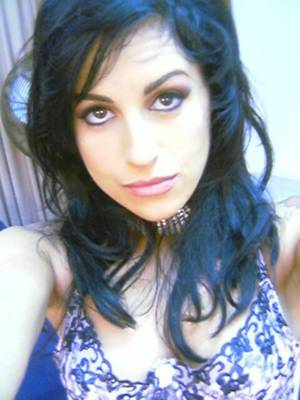 AVY LEE ROTH, AND HER EASY SALSA!!!
Ingredients:
1 clove garlic
2 green onions
1 to 3 jalapeno peppers (remove the seeds if you don't want it too hot)
28 oz can chopped tomatoes, drained (reserve 1 Tbsp of the juice)
1 Tbsp lemon juice (or squeeze 1/2 a fresh lemon)
6 fresh cilantro leaves
salt and pepper
Method:
Put first 3 ingredients in a food processor and pulse (or if you don't have a food processor, mince them with a knife)
Add tomatoes, 1 Tbsp of the tomato juice, ! Tbsp fresh lemon, cilantro leaves and salt and pepper to taste. Pulse LIGHTLY (you don't want soup *grin*)
Again, if you don't have a food processor. just chop your tomatoes up a bit more than they come in a can and mix all the ingredients together in a bowl.
Put a little sprig of cilantro on top to decorate.
And there you have it!

By the way, if any of you work for Wicked Pictures or Vivid, and feel like giving Avy something back, drop me an email and make her dreams come true.

Happy cooking...




This is knifey, from 'the internet'.